Reflecting on 2021
Beginning in late August, much of Canada started to wrap up the 2021 growing season. As we at Prograin reflect on the season, we've begun to see what went well in the industry, and what could've gone better.
Progress at Prograin
2021 was the second year that Prograin acted as a direct distributor in the marketplace, providing service and products to retailers.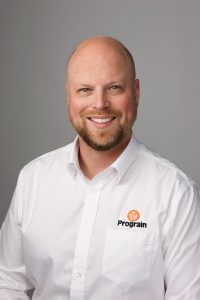 "It was definitely a test for the brand," explains Prograin's VP of Sales and Marketing, Alex Beaudoin. He continues, "The first year wasn't bad, but wasn't perfect, so we had some stuff to fix."
Along the way, Prograin has listened carefully to our retailers, relying on their input so we can continue to improve our services.
As a family founded and family run business, we direct our efforts towards supporting Canadian farming families. Agriculture is essential to Canada's livelihood; the easier our jobs, the greater our success. If our seed isn't the best quality, if it doesn't provide the best results, it won't go to market.
At the end of each growing season, we look at results and research growing trends to ensure that our products meet the highest of standards, so our growers move confidently into the next year.
Keep reading to see how we're constantly upgrading our products to meet the needs of Western Canada.
2021 Crop Results
It was a challenging year for farmers across Canada as they faced unpredictable weather shifts and record-breaking heat. There were many areas that escaped these conditions; however, the year remained uncertain for those who had to deal with the high temperatures.
Beaudoin explains the conditions across Canada: "Eastern Canada was really struggling at first, while Western Canada had moisture levels all in the green, and then it shifted. Then that tap went off in Western Canada, and it turned on in Eastern Canada… we were scared for our crops."
"If they didn't have a good start, they would probably be dead right now," remarks Beaudoin. "They might not have the best yield, but they're still sticking around, and farmers will have something to harvest."
Moving Forward with Research
Thanks to the aforementioned Canada-wide drought, data results from Prograin's research plots aren't what we expected them to be. Unfortunately, this means data sets will be drawn mainly from areas that had favourable weather.
While the amount of data from this year is limited, our Western Canadian Sales Manager, Shawn Rempel, assures that any data they do have will be made available to Prograin growers and retailers.
Right now, Rempel explains that, "We now have the opportunity to look over all of our small research trials across Manitoba and Saskatchewan, look over all the demonstration trials and seed production fields of these new varieties, anywhere we can possibly get a good feel for how these varieties are performing under really dry circumstances."
In other words, while the drought may have been catastrophic in some areas, it has given us the chance to actively research which varieties and traits thrive in drought conditions and unpredictable weather. With this information, we can get closer to creating varieties that are designed to succeed.
What to Expect in 2022
The farming industry is rarely consistent; we're learning new things and facing new challenges all the time.
Now that the season is over, it's important for the farming community to reflect on the challenges they faced and begin finding solutions.
For Rempel, the questions are simple: "What did we do differently in the fall of 2021? And what can we do differently in spring 2022 to make sure that we don't run into some of those challenges again?"
He answers that some things have to change, whether it's equipment, your management decisions, or the variety you choose to grow. We may face another dry season again next year, a reality that many will have to be prepared for by adapting their practices.
At the end of the day, "it's phenomenal how these farms have been built and how they've grown in the past decade or two," says Rempel, and Prograin looks forward to being a part of that future.
____
While you're here, check out our new Fixx app! This app allows you to keep up with and control your profitability – anytime, anywhere.
Learn more here: https://prograin.ca/ca/en/fixx/
Check out our 2022 seed guide to learn about our new varieties: https://prograin.ca/app/uploads/sites/4/2021/08/Guideouest2022-spread.pdf
And stay tuned for our blog post next month, where we'll go in depth about how the Fixx app can improve your farm!