Insect and weed problems can arise throughout the growing season. But what about mineral deficiencies? Today, we are going to discuss nitrogen and sulfur fertilization in soybeans! Does it improve yield? That is what this latest blog will look at!
Happy reading!
Nitrogen (N)
Even though soybeans capture N from the air, deficiencies are common. Nitrogen requirements increase at stages R4 and R5, more especially when a soybean yield surpasses 70 bushels per acre. To produce such a high yield, a population needs 200 to 300 pounds of N per acre!
Deficiencies most often arise when soil is too wet, poorly aerated or too dry. Nitrogen fixation becomes more difficult in these conditions. Leaves turn light green, and problems with nodulation or roots may be observed.
Important: If nitrogen deficiencies are not corrected, they can cause leaves to turn brown and necrotic!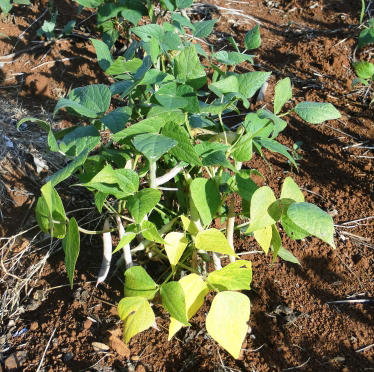 @University of Nebraska and Mississippi State University
Sulfur (S)
Sulfur aids in the formation of essential amino acids and nitrogen absorption. It allows the soybean to maintain optimum growth throughout the vegetative and reproductive stages. In other words, this nutrient plays an important role in seed development and the process of photosynthesis.
Several factors contribute to sulfur deficiencies in soybeans:
Reduced industrial emissions, with current rates around 5lbs/acre;
Higher crop yields (70 bushels of soy remove an average of 13 pounds of S);
Use of a fertilizers without sulfur;
Sulfur leaching out of roots during heavy rains or excessive irrigation.
To determine whether your soybean plants have a deficiency, look at the leaf color. Pale green leaves on young plants are often a sign!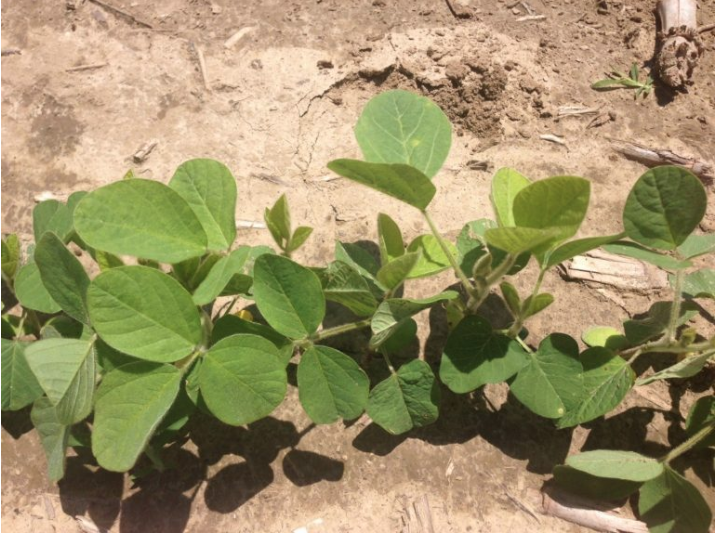 @University of Nebraska and Mississippi State University
Study
A team of Science for Success researchers tested various nitrogen and sulfur fertilization strategies in soybeans, at different periods. In total, more than 26 application tests were conducted in more than 12 states in the US!
The study concentrated on these four (4) points:
1- Yield;
2- The nitrogen level in the soybean;
3- The contribution of nitrogen fixation;
4- The uncertainties of these last three points in the soybean response to nitrogen and sulfur fertilization using a uniform protocol in all environments.
Initially, the team members tested the soybean both methods independently. They also mixed the nitrogen and sulfur, applying half of the doses at planting time and half of the doses at the R3 stage.
Based on this study, nitrogen fertilization does not increase yield. However, uncertainty remains regarding the treatment response, which could lead to uneconomical and unsustainable recommendations.
One last word
Finally, none of the studies demonstrated that N fertilization during seeding improves yield. Some of the research conducted in the United States and Ontario showed minor improvements, but nothing more (less than 2 bushels/acre).
Most of the time, N needs are met naturally, except in the case where the soil is unsuitable for nodule production. Nitrogen fertilization is therefore not recommended except in the case of a deficiency. As for sulfur fertilization, further research will confirm whether or not it increases yield.
Sources :
A. Almeida et al., (2023). Soybean yield response to nitrogen and sulfur fertilization in the United States: contribution of soil N and N fixation process. Science Direct, Volume (145), 126791. https://www.sciencedirect.com/science/article/abs/pii/S116103012300059X
A. Ciampitti, Antunes de Almeida and A. Correndo. (2023). Nitrogen Fixation and Sulfur Fertility in Soybeans. [Webinar] Sciences for Success. YouTube. https://www.youtube.com/watch?v=N5WK0MAOhx8&t=12s
Gouvernement de l'Ontario. (2022). Apport en azote pour le soya à fort rendement. Apport d'azote pour le soya à fort rendement | ontario.ca
Haigwood, W. (2023). Nitrogen and sulfur applications in soybean. Delta FarmPress. https://www.farmprogress.com/soybean/nitrogen-and-sulfur-applications-in-soybean-
Le Bulletin des agriculteurs. (2022). S'agit-il de jaunissement hâtif du soya ? Le Bulletin des agriculteurs. https://www.lebulletin.com/cultures/sagit-il-de-jaunissement-hatif-du-soya-120937
The Soy Hopper. (2023). The Difference Sulfur Makes in Soybeans. United Soybean Board. The Difference Sulfur Makes in Soybeans – United Soybean Board